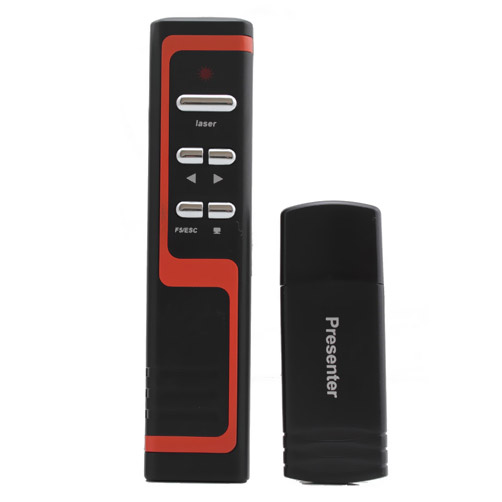 HTPOW Wireless Red Laser Pointer with Page Up Down

PPT Laser Pointer
Inventory status : Have in stock
color :Red ppt laser
size :11*2.5*1.4CM

$19.17
Guarantee: When you buy laser pointers from everyonetobuy.com , we take care to ensure convenience, discount pricing, and quality. We guarantee a 30-day money back return policy, one year warranty! If you have any problem, please contact us in time.
Miniature design, clean aesthetic, easily portable Easily control the pace of your presentation Advanced RF radio frequency technology USB receiver is plug-and-play, no drivers required Lightweight and fits in your pocket or bag a printer with high wireless signal sensitivity Make your next presentation unforgettable with the Presenter Expert Green Laser with Cursor Control and Memory.  it's suitable for even the biggest rooms and brightest screens. Wireless presenters laser pointer build confidence by giving you intuitive controls and thoughtful features that let you spend more time focused on what truly matters: your audience. With features like extended wireless range, a comfortable easy design and built-in memory that stores your presentation, you'll have everything you need to control the room. you'll enjoy an ergonomic design that fits comfortably in the palm of your hand and delivers the rock-solid reliability you demand.
Product Specifications :
Size :φ11*2.5*1.4CM
Material:Plastic
Security level: ClassIIIB
LASER:continuous semiconductor laser (λ= 650 nm)
Output power: 5mW
Color: Red wireless ppt laser
Laser range: 15 inches (indoor)
USB Port USB3.0/2.0/ 1.1
Working voltage:2.4V, 3.3V
Power supply: 2*AAA
Total weight: 45g (with battery)
Volume: Wireless Presenter 113mm(L)*25mm(W)*14mm(H)
Wireless receiver 68mm(L)*25mm(W)*9mm(H)
System:Microsoft Windows, 98SE,2000,XP,Vista,Windows 7, Mac OS 10.0x, Andriod 3.1

Features:
1.Taking advanced RF2.4GHz wireless technology, with stable performance. maximum operable range could reach 15m, could receive 360 degrees, non-directional.
2.Support plug-and-play, do not need drivers.
3.The power supply and automatic power-saving, double-energy-saving design.
4.Function: laser pointing, the Page up Down wireless slide presentation (flip up and down / black screen / player / ESC)
power switch (to prevent battery leakage)
5.Applicable to : companies, schools, educational institutions, government and commercial users.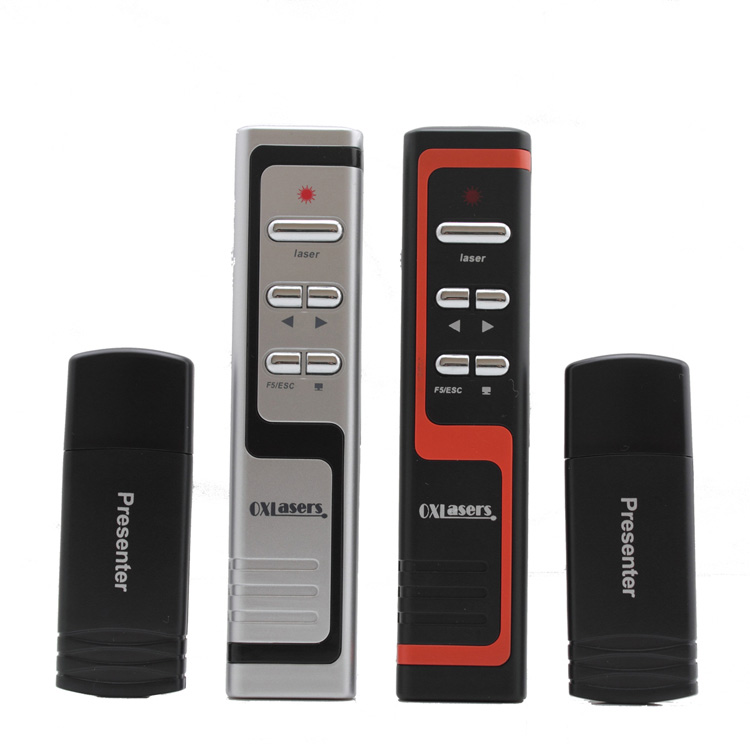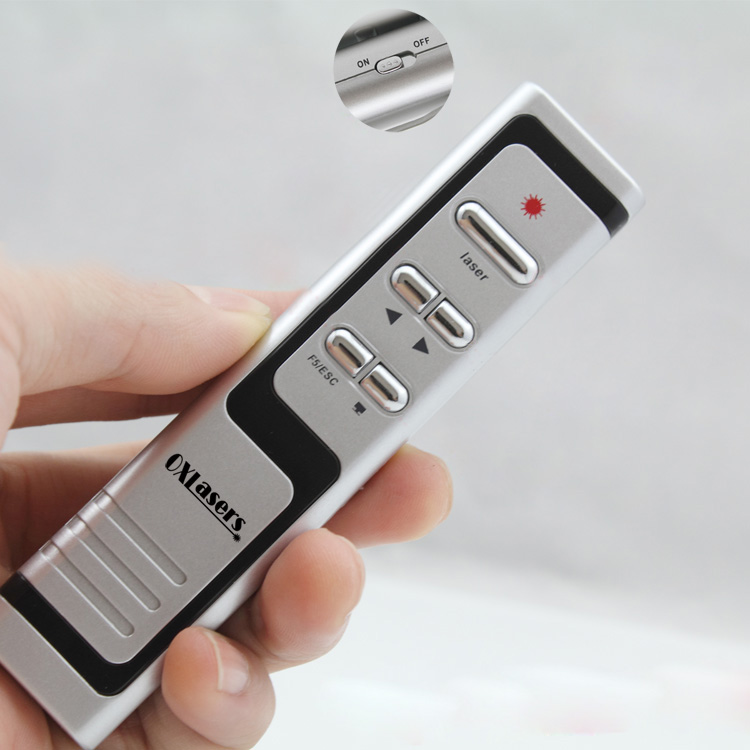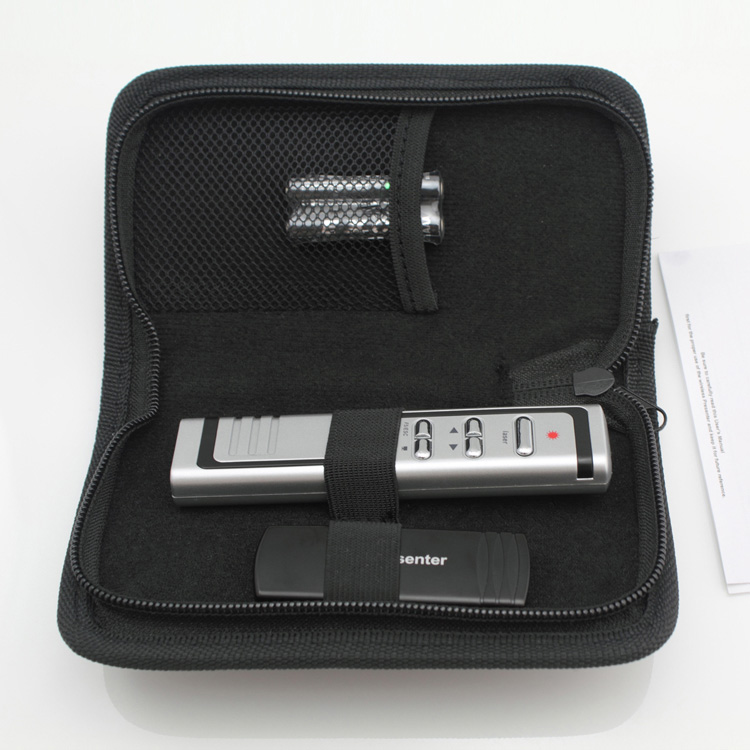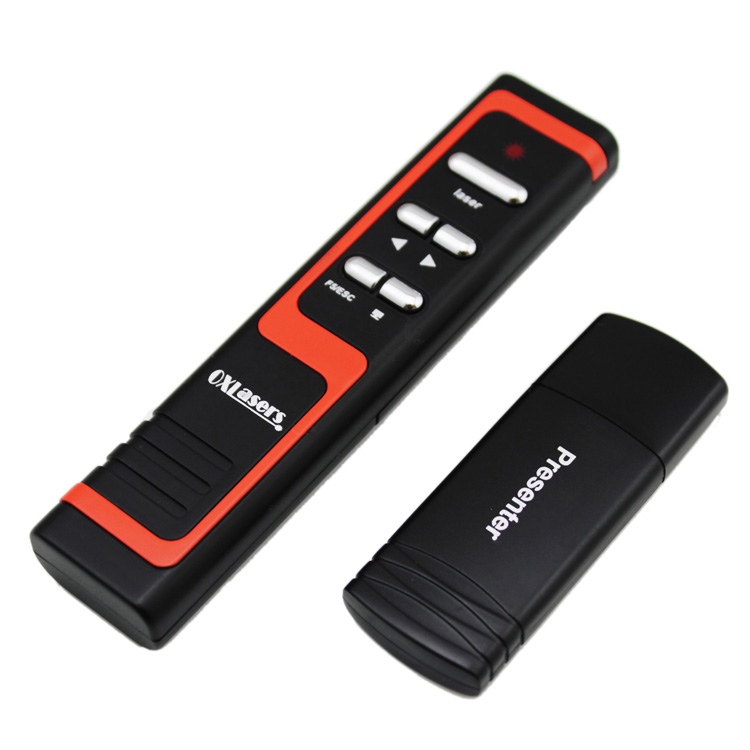 Packing detail:
1xWireless Presenter
1x Wireless receiver
1x Manual
1x leather case
2x AAA

NOTE:
1.Do not look into the aperture of the laser beam,and do not aim into eye!
2.Do not repeat to switch the laser pointer within 1 min, otherwise it will shorten the lifetime of the laser pointer.
3.Take off the battery and Keep out of reach of children!
4.Charging or changing the battery once the laser beam brightness seriously drop!